ПУСТ*
interdisciplinary project: light, dance, sound,
finding/created objects and documents
2016/17
45'→
The title ПУСТ* has several connotations: on the one hand, it signifies a "wild, uninhabited, dense, pathless forest" (Belavezha Forest) that would otherwise consist primarily of emptiness and desolation. At the same time, the word means "let it be", signifying a kind of acceptance of inhabiting the political wilderness. This is a criticism of society and ourselves.
PARTICIPANTS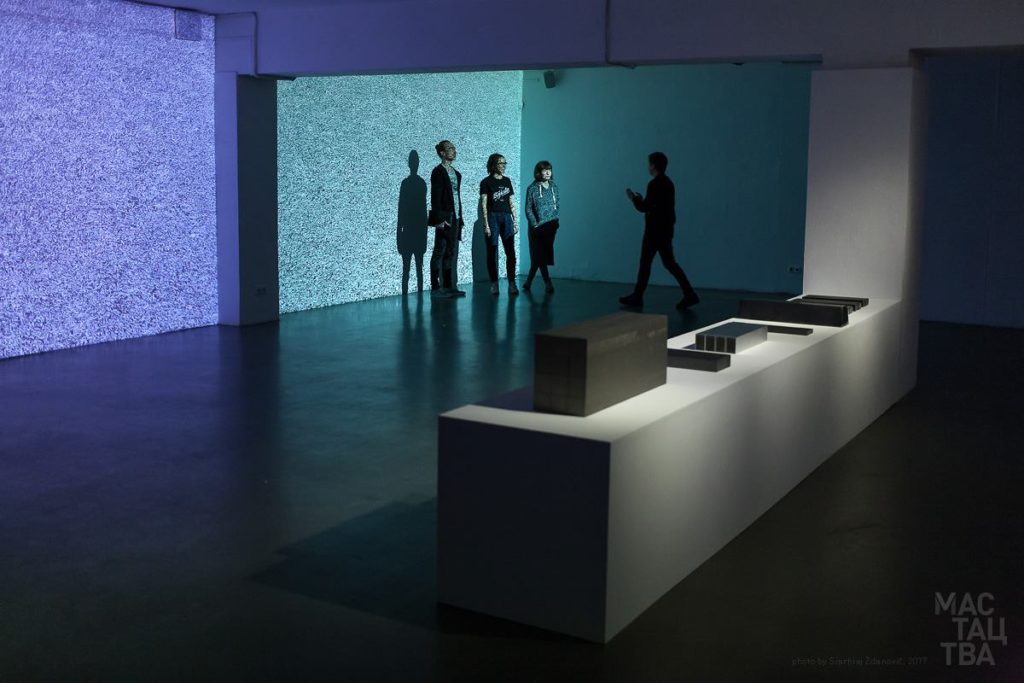 The artists' collective behind the project ПУСТ* consists of four representatives from different artistic genres: the composer Yuri Akbalkan, the video and media artist Snezhana Vinogradova, the choreographer Alexandra Portyannikova and the visual artist Sergey Shabohin. Although the artists work with different types of media, there are similarities in their approach to art and the themes they deal with.
All four collective participants have left the academic concept of art behind them, stepping outside the limits of traditional formats in their artistic practice. Additionally, all four artists work within the framework of art in public space and incorporate elements of physicality into their work. Common themes in the artists' respective works are archives and maps and the inclusion of political as well as historical elements.
ABOUT THE PROJECT
The project ПУСТ* refers to events that took place on December 7-8, 1991, during which the presidents of Russia, Ukraine and Belarus signed the Belavezha Accords, officially dissolving the Soviet Union and the Commonwealth of Independent States.

This extremely important political event occurred in a hunting cabin in the woods of the Belavezha Forest (Belarus), the last primeval lowland forest in Europe. These events, which took place under a veil of secrecy, are still mythologized to this day. Various sources report a variety of controversial events. Some assert that the premises where the treaty was signed had been surrounded by secret services that did not intervene. Other sources state that the treaties were signed in a drunken state. There is a prevalent rumor that, once signed, the documents temporarily disappeared and were then found in the trash bin the following day. Others conjecture that the signatories feared being accused of treason and had made preparations to flee across the border to Poland by walking through the forest.

The authors of the ПУСТ* project are representative of a generation that witnessed the disintegration of the Soviet Union and thereby helped shape the historical trauma of the era.

Using artistic methods, the collective attempts to imagine the events in the Belavezha Forest from the perspective of its participants, drawing parallels between fear of the "wild forest" and fear of wild politics, between being completely adrift but also spontaneously decisive, between the enormous impact of this political decision and a series of unpredictable and absurd factors that influenced it.
THE FIRST RESIDENCE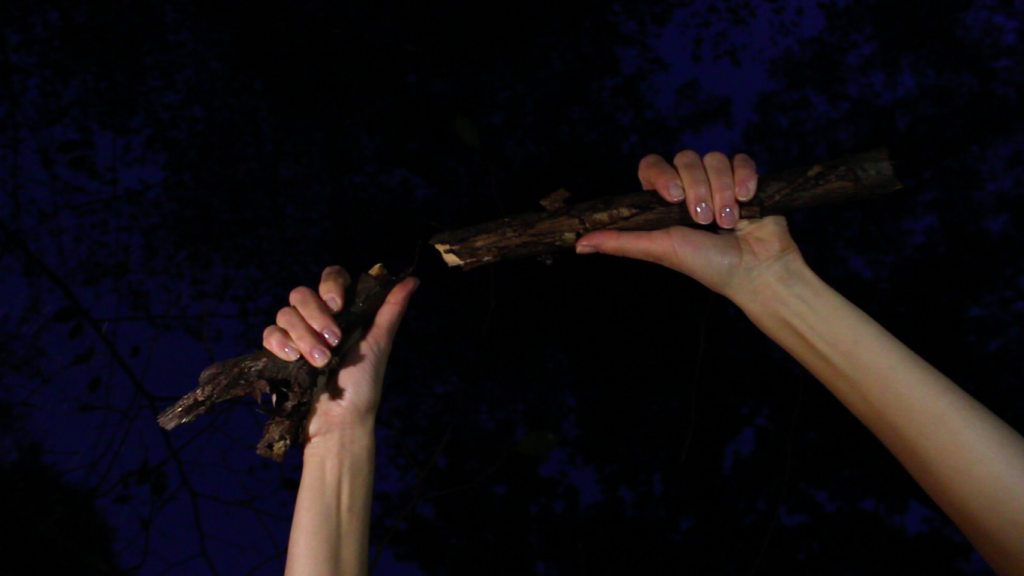 12.09–09.10.2016
Schwarzwald und ZKM | Zentrum für Kunst und Medien Karlsruhe, Germany
Team: Yuri Akbalkan, Alexandra Portyannikova,
Sergey Shabohin, Snezhana Vinogradova
PROJECT PRESENTATION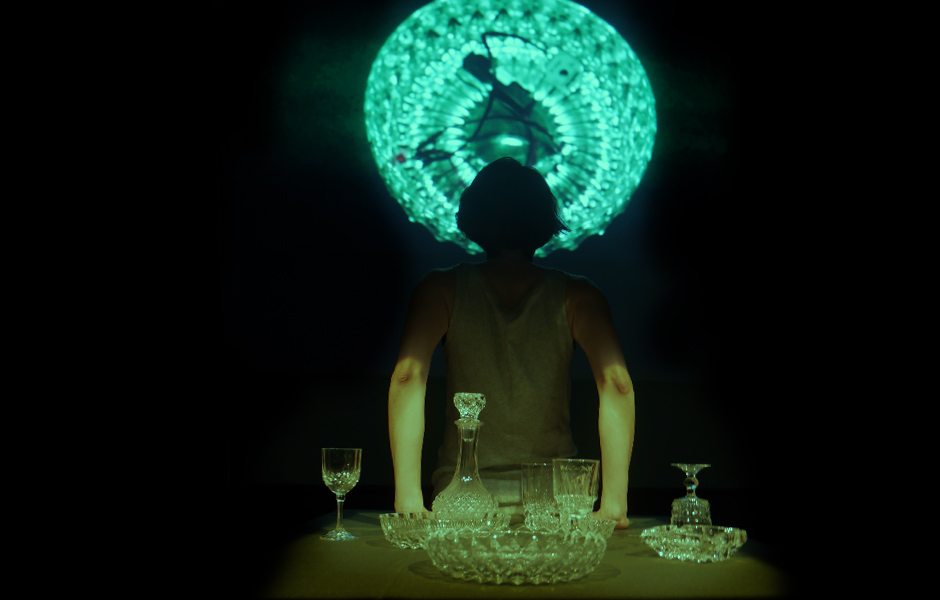 9.10.2016 / 20:00
Kubus, ZKM, Karlsruhe, Germany
Autors Team: Yuri Akbalkan, Alexandra Portyannikova, Sergey Shabohin, Snezhana Vinogradova
Team ZKM: Luise Wiesenmüller (Produktionsleitung), Hans Gass (Licht, Veranstaltungstechnik), Sebastian Schottke (Tonmeister), Matthias Müller (Tontechnik), Bernhard Sturm (Betriebstechnik), David Luchow (Assistenz Betriebstechnik), Götz Dipper (Musikinformatik), Yannick Hofmann (Künstlerbetreuung), Caro Mössner (Sekretariat), Christina Zartmann, Anna Titova (Video-Dokumentation), Anton Kossjanenko (Aufnahme)
THE SECOND RESIDENCE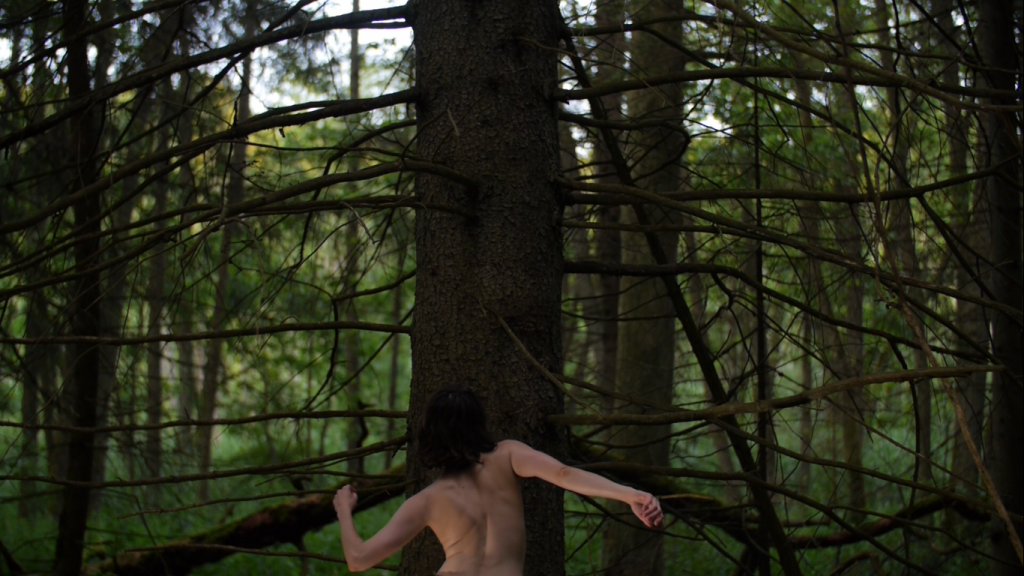 05–18.07.2017
Minsk und Białowieża-Urwald, Weißrussland
Projekt presentation in the frame of the festival "Work Hard! Play Hard! Transmission" in Minsk
Team: Yuri Akbalkan, Daria Plokhova,
Alexandra Portyannikova, Sergey Shabohin,
Snezhana Vinogradova
Camera: Alexey Kubasov
FINAL PRESENTATION, PERFORMANCE, AND INSTALLATION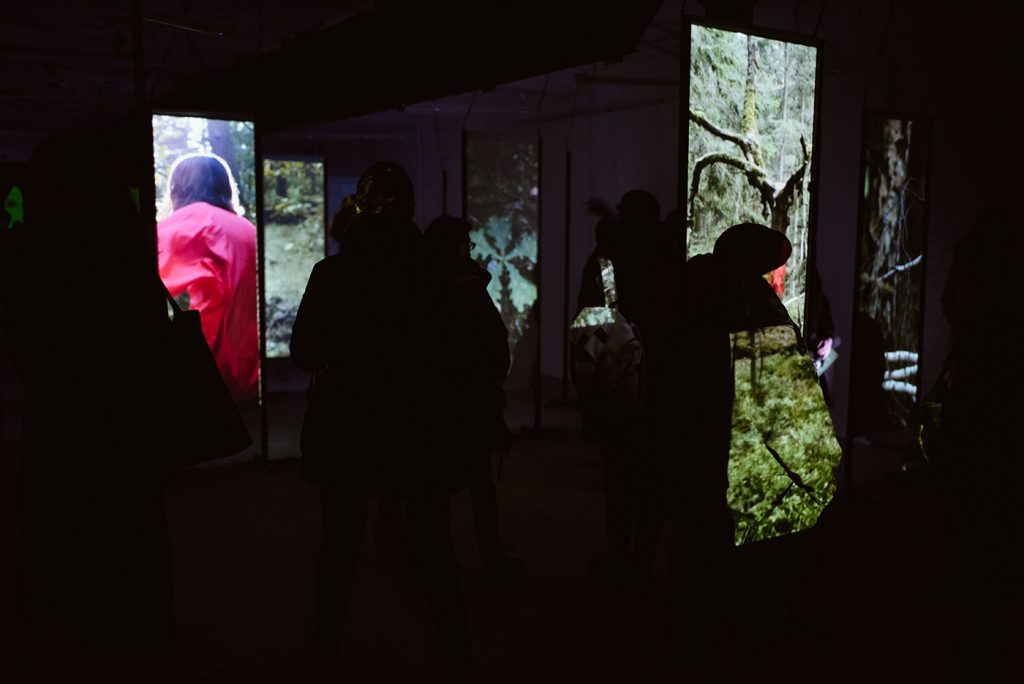 23.11.2017 / 20:00
Installation: 23–26.11.2017
Berthold-Zentrum, Saint Petersburg, Russia
Team: Yuri Akbalkan, Isadorino Gore Dance co-op (Daria Plokhova, Alexandra Portyannikova), Sergey Shabohin, VOLNA (Nikita Golyshev, Snezhana Vinogradova), Sergey Kostyrko
VIDEO DOCUMENTATION
CREDITS
Idee, Design, Objekte
Sergey Shabohin

Choreografie
Konzept, Performance: Isadorino Gore Dance co-op (Daria Plokhova, Alexandra Portyannikova)
Kostüme: VOLNA

Lichtinstallation
Konzept, Produktion: VOLNA (Nikita Golyshev, Snezhana Vinogradova)
Elektronische Montageunterstützung: Nikita Savinyh
Konstruktion: VOLNA (Dmitry Gavkalyuk, Katerina Morza)

Klang
Komposition und Soundkonzept: Yuri Akbalkan
Digitaler Synthesizer Entwicklung und Programmierung: Sergey Kostyrko

Videoinstallation
Konzept, Redaktion, Produktion: VOLNA
Kamera: Alexey Kubasov, Sergey Shabohin

Projektdokumentation
Kamera: Polina Korotaeva, VOLNA
Foto: Valery Smirnov

Goethe-Institut St. Petersburg
Institutsleiter: Dr. Günther Hasenkamp
Initiatorin des Projekts, Institutsleiterin des Goethe-Institut
St. Petersburg, 2014-2017: Dr. Angelika Eder
Projektkoordinatorinnen: Jana Soboleva, Snezhana Vinogradova

ZKM | Zentrum für Kunst und Medien Karlsruhe
Leitung der Institut für Musik und Akustik: Ludger Brümmer
Licht, Veranstaltungstechnik: Hans Gass
Tonmeister: Sebastian Schottke
Tontechnik: Matthias Müller
Musikinformatik/Systemadministration: Götz Dipper
Aufnahme: Anton Kossjanenko
Betriebstechnik: Bernhard Sturm
Assistenz Betriebstechnik: David Luchov
Softwareentwicklun: Chikashi Miyama
Projekte/Veranstaltungen: Yannick Hofmann, Luise Wiesenmüller
Video-Dokumentation: Anna Titova, Christina Zartmann, Sofia Kessel
Mediaartbase.de: Daniel Höpfer
Sekretariat: Caro Mössner

Besonderer Dank
Alexey Bratochkin, William Cohen, Ksenia Diodorova, Vera Dzedok, Viktor Fiht, Justina Fink, Zhanna Gladko, Tatjana Kirianova, Beate Körner, Evgeny Korniag, Roman Krasilnikov, Klim Losovsky, Alexey Lunev, Simon Matikashvili, Pavel Preobrazhensky, Tatjana Pronina, Nemanja Sarbajic, Agata Semenova, Viktor Smolensky, Nikola Spesivtsev, Dzina Zhuk, Tatjana Zhukova